Most Incredible Things to See & Do in Western Australia
Reading time:
7
minutes
None of us could have imagined the unprecedented events that have unfolded in recent months. For most of us, travel is now paused but that doesn't mean dreaming and planning should be put on hold. Here is some inspiration for when we can travel again.
Western Australia is vast – you could fit Germany, France, Italy, the UK and Portugal into the same area, and still have room to spare. The state dwarfs the rest of Australia, yet it is seriously undervalued by both local and international travellers.
A version of Most Incredible Things to See & Do in Western Australia first appeared on WorldNomads.com.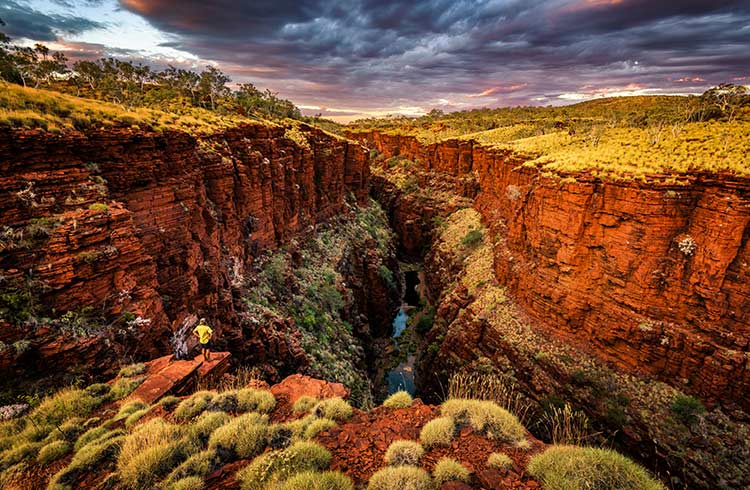 Photo © Getty Images/Posnov
There are plenty of well-traveled spots around Western Australia such as Wave Rock, The Pinnacles, Margaret River and, of course, the city of Perth. While no Western Australian trip is complete without checking these destinations out, there are so many more that are less frequented and far more rewarding.
Karijini National Park
Around 1,000km north of Perth, Karijini National Park, the second largest in the state behind Karlamilyi, is a World Heritage site. It features stunning gorges, rock formations, hiking trails and swimming holes, accessible from either the Great Northern Highway or the Nanutarra Wittenoom Road.
At Dales Gorge, you can hike and visit Fortescue Falls and Fern Pool, which hold significance for the local Indigenous people. There's a campground close to Dales Gorge, in case you arrive late in the day and want to stay overnight.
Don't miss Hancock Gorge, further east, and Knox Gorge, accessed via an unsealed road. Both offer great lookouts and trails, where you can see the unique rock layers in the park. Descend into Hancock Gorge, via a steep ladder, to swim in beautiful Kermit's Pool.
In the southern part of the park, an overlooked spot is the summit of Mount Bruce, perfect to catch the sunrise from. A steady two-hour hike will seem like nothing once you see the vibrant colors of the Outback at dawn. Check the trails are open before you set off.
El Questro
The Kimberley region in Western Australia's far north is pure wilderness, untamed and remote. About 102km west of Kununurra, visit El Questro Wilderness Park to experience what has been described as Australia's last frontier. The landscapes are incredible, with dramatic mountains, winding gorges, thermal springs, swimming holes, rainforest and waterfalls. Hire a 4WD and stock up on supplies before heading out to one of the campsites including Kingfisher Camp, the luxurious El Questro homestead or El Questro Station.
There are dozens of hiking trails within a short distance of each campsite, but don't miss Amalia Gorge, El Questro Gorge or the swimming holes at Jackaroo's Hole and Moonshine Gorge.  The Zebedee Thermal Springs are a relaxing reward after a hike in the heat.
Some 4WD trails may require creek crossings, which shouldn't be attempted without the right gear for your vehicle. Along the way, don't miss the views from Pigeonhole and Saddleback lookouts. Or see Chamberlain Gorge, on a river tour.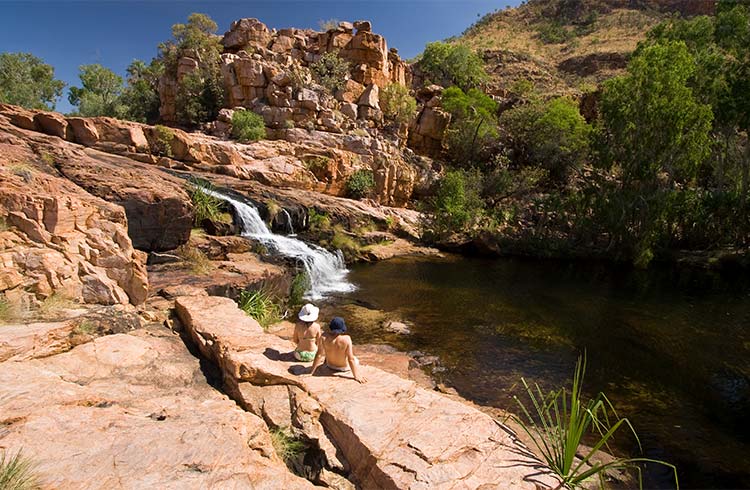 Coral Bay & Ningaloo Reef
Coral Bay is a small settlement on the northwest coast. Previously known as Maud's Bay, after the first European ship to visit the area, the town took its current name from a local hotel in the 1960s. Small and unassuming, Coral Bay was pivotal in the exploration and development of the far north of Australia.
The dunes south of the town are a popular spot for four-wheel driving, complete with basic campsites scattered along the beaches and coves.
The Ningaloo Reef lies just off Coral Bay, making the town a popular place for scuba diving charters, snorkeling, eco tours and sailing. Stretching more than 257km along the far northwest coast, Ningaloo Reef is famous for boat tours that allow visitors to swim alongside whale sharks on organized trips between March and June. Other marine life including dugongs, dolphins, humpback whales and manta rays can be seen.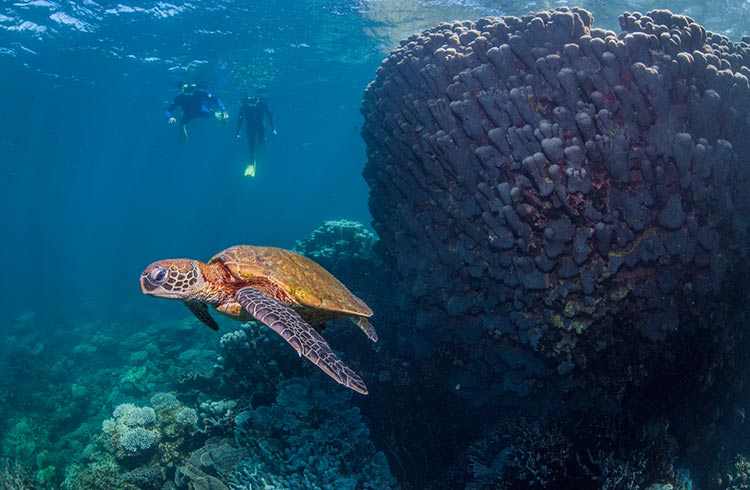 Shark Bay
The World Heritage site of Shark Bay is an exceptional place to see dugongs and dolphins, and the natural phenomena, stromatolites, littering Hamelin Pool. Shark Bay is also home to Monkey Mia, where travelers can learn about the significance of the area to local Indigenous people as part of an eco-tour. Visit Eagle Bluff Lookout, where you may be lucky enough to spot sharks, rays and turtles in the clear water below. For those seeking the opportunity to hand-feed wild dolphins, the closely monitored marine park offers just that.
Broome
Broome sits on the northwest coast of Western Australia, close to the natural wonders of the Kimberley region. Famous for stunning sunsets at Cable Beach, Broome is a great place to base yourself before heading east into the Kimberley or to Purnululu National Park.
Broome once had a thriving pearling industry, and each year, the Shinju Matsuri Festival is held in late August and September to celebrate the fusion of European, Japanese, Chinese and South Asian cultures as a result of the pearling history of the town. Roebuck Bay is home to large colonies of seabirds, and at low tide, fossilized dinosaur footprints can be seen along areas of the coastline and the mudflats off Gantheaume Point.
Between March and November, a unique phenomenon called the 'Staircase to the Moon' can be seen from Broome. The moon rising over exposed mudflats forms a truly breathtaking sight. Check for the best dates and times to see it while you're there.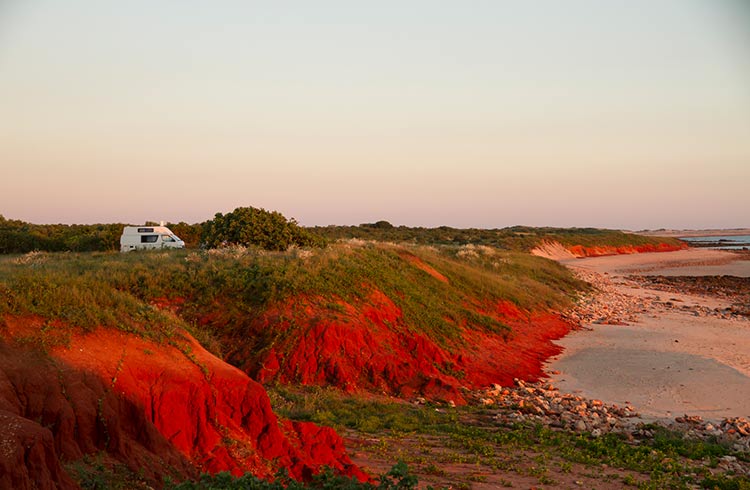 Kalbarri National Park
Around 154km north of Geraldton, Kalbarri National Park is home to the Murchison River, river gorges, dramatic coastal cliffs and beaches, coastal and inland hiking trails and off-road activities including quad biking and 4WDriving. There are no campsites in the park, but there is accommodation in the coastal town of Kalbarri.
Check out the Z Bend River Trail, which ends at a great gorge lookout, and The Loop track, where you can see the Natures Window rock formation. While hiking, be sure to keep an eye out for echidnas, kangaroos and emus. Along the river, you might see bearded dragons, hopping mice, and dragonflies, and you can hire a kayak to see nature while paddling through the water.
Along the coast, stop by Mushroom Rock, Eagle Gorge, and Red Bluff before relaxing on the beach at sunset. If you're searching for a beach campsite, you can rest for the night at Lucky Bay, which is on the road to Kalbarri.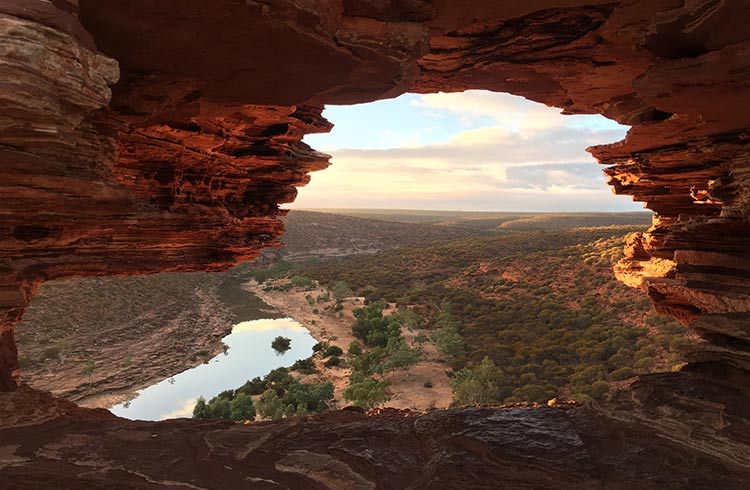 Pink Lake
There are a number of pink lakes across Australia, some natural and some artificial (which are used as Beta-Carotene farms). Created by a combination of high salt levels, algae, and brine shrimp, pink lakes can be found at the Hutt Lagoon on the road to Kalbarri and also just below the Collier Ranges, although they are often dry. The Pink Lake, 3km west of Esperance, may have lost much of its once bubblegum pink color, but it could be slowly returning, and the lake is worth checking out while driving the scenic Twilight Beach Road.
Lake Hillier is a far more vibrant pink lake located on Middle Island, part of Cape Arid National Park. Due to its remoteness, the best way to see the lake is via a scenic tour Esperance.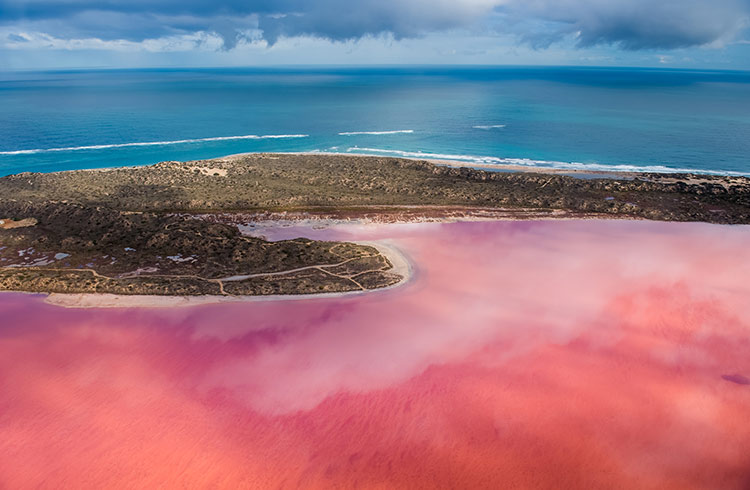 Horizontal Falls
In Talbot Bay, in the far north of the Kimberley region, the world-famous Horizontal Falls are formed by rising tides and water levels on either side of narrow passes, leading into an enclosed lagoon. As the water rises quickly on one side of the pass, powerful whirlpools are formed, creating the horizontal waterfalls. One of the most intriguing natural wonders to be seen in Australia, the falls can be viewed via boat and plane tours operating from Derby, but are best viewed from the water.
Elephant Rocks
On the far south coast of the state, William Bay National Park lies around 16km west of the town of Denmark. The park has a number of beaches, coves and rock formations which many travelers bypass on the road to Albany. Perhaps most famous are Elephant Rocks, a group of large rocks resembling a herd of elephants wading out to sea. The rocks are only a short walk from a car park, but nearby Greens Pool, where round boulders naturally shelter the bay from crashing waves, makes a great place to swim in the calm water.
Waterfall Beach has a unique freshwater waterfall cascading directly onto the sand, and Madfish Bay is another great place to go swimming and fishing. Both can be accessed by 2WD, but note that reaching them requires driving on corrugated and sandy tracks.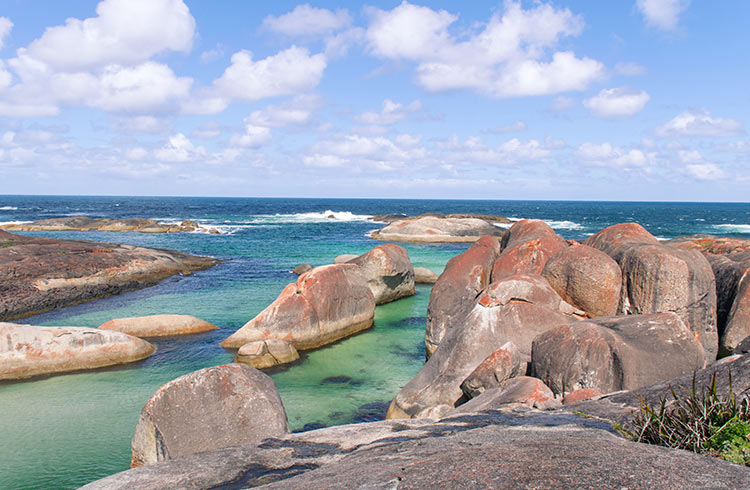 Esperance
The town of Esperance acts as a hub to refuel, refresh and restock before heading into one of many national parks that litter the southern coast of Western Australia. Take a day trip from Esperance to follow Twilight Beach Road and explore the coves along the coastline.
Further east, head 46km to Cape Le Grand National Park to share the sand with kangaroos at Lucky Bay, picnic among the sand dunes and heathlands of Hellfire Bay and Thistle Cove, or, 4WD on the beach at Cape Le Grand.
Inland, Frenchman Peak is a well-paced, 3km hike that rewards with sweeping views back across the park. Along with kangaroos, emus can be found roaming the pristine sands of Lucky Bay, and offshore, whales can be seen basking in the shallows. Lucky Bay was also selected as having the whitest sand in Australia in 2017.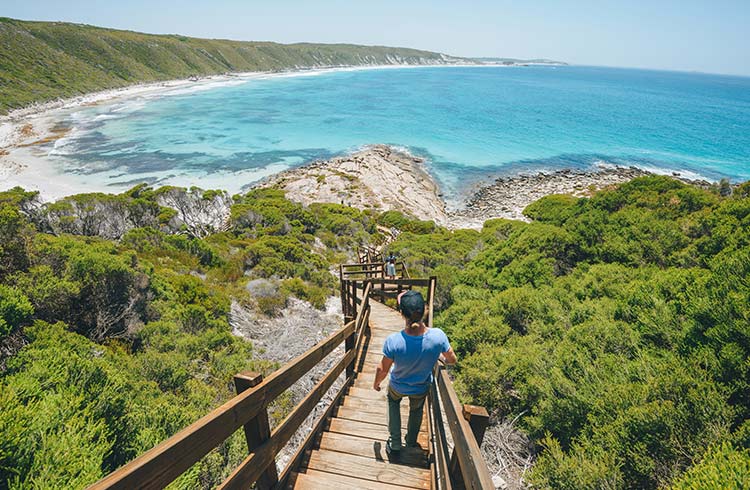 Camping in Western Australia
Pack your camping gear and venture out to one of the designated camping areas to see the clear skies at night. For many, the sight of a pollution-free night sky is a life-changing experience.
In northern Western Australia, hundreds of campsites dot the shoreline and national parks, some basic and others excellent facilities. If you're looking for somewhere wild and remote, try Gregories at the tip of Cape Peron, or Kurrajong, Osprey or Yardie Homestead in Cape Range National Park.
Self-contained campers can explore the sand roads north of Broome or the King Leopold Ranges. Charnley River Station and Silent Grove are both well suited for those heading into the ranges, while the campsite located within a disused RAAF quarry on the Leopold Downs Road is a good spot if you're heading east.
In southwest Australia, Lucky Bay campsite is a firm favorite, as is the site located at Cape Le Grand Beach. Further east, Yokinup campground located in Cape Arid National Park offers good access to the rest of the park.
Most campsites that offer facilities require a fee, but many wilderness camps can be used free of charge – just be sure to double check the situation ahead of time.
Download the Wikicamps app to use offline, so you can find major and minor campsites throughout Australia. If you're on a last-minute hunt for a site nearby, it could be a lifesaver.