Challenge Yourself on One of Australia's Greatest Hikes
Reading time:
4
minutes
None of us could have imagined the unprecedented events that have unfolded in recent months. For most of us, travel is now paused but that doesn't mean dreaming and planning should be put on hold. Here is some inspiration for when we can travel again.
Take on one of Australia's multi-day hikes. From the Larapinta Trail in the Northern Territory to the Three Capes Track in Tasmania, here are our insider's top picks.
A version of Challenge Yourself on One of Australia's Greatest Hikes first appeared on WorldNomads.com.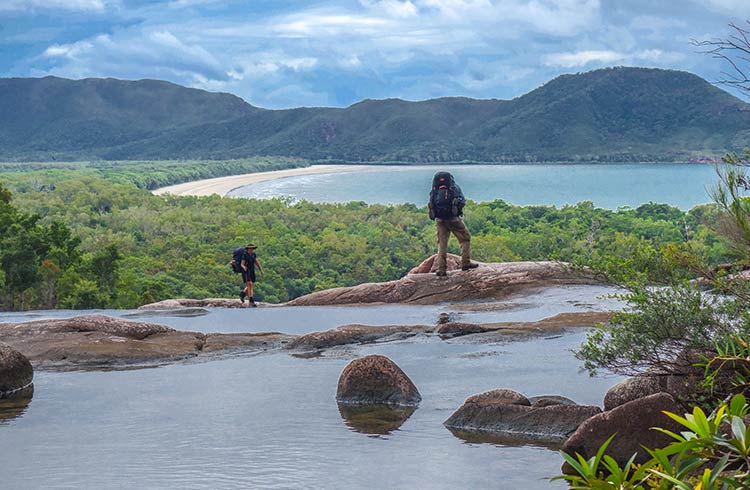 Australia's vast landscape varies from desert to tropical rainforest, alpine mountains to an endless coastline. Hiking is the ultimate way to experience these landscapes, but you'll need to have the right gear and food to tackle these walks. Always carry a map, compass, GPS, first-aid kit and Personal Locator Beacon. 
Larapinta Trail, Northern Territory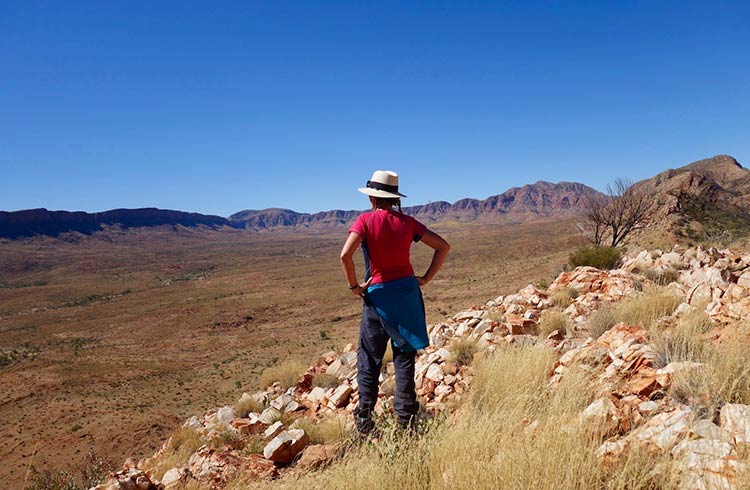 Weaving along the West McDonnell Ranges in the Northern Territory, this trail offers diverse hiking through desert, mountains and numerous red rock gorges including Standley Chasm and Simpsons Gap. Catch vast views from lookouts at Counts Point and Brinkley Bluff, where you can also set up camp for a great view of the sunrise. Spot dingoes and rock wallabies if you're lucky, and don't miss a side trip around Ormiston Pound, a ring of mountains dominated by Mount Giles, and home to popular Ormiston Gorge.
Time: 139mi/223km, 12-16 days
Getting there: Walk directly from Alice Springs and arrange a pick up with a local operator at the end.
Tip: Organize food drops with a local operator.
Difficulty: Moderate-Hard
Thorsborne Trail, Queensland
World Heritage-listed Hinchinbrook Island feels like the land that time forgot. Rocky peaks soar from the rainforest, palm trees line pristine beaches and the interior hides swamp and grassy plains, making for a spectacularly diverse trail. Swimming in cascades and rivers is a daily treat, and Zoe Falls is a highlight.
Time: 20mi/32km, 4–5 days
Getting there: Catch a ferry from Cardwell, a 2.5-hour drive south of Cairns.
Tip: Metal boxes provided at camp will prevent bush rats from raiding your food.
Difficulty: Moderate-Hard
Cape to Cape Track, Western Australia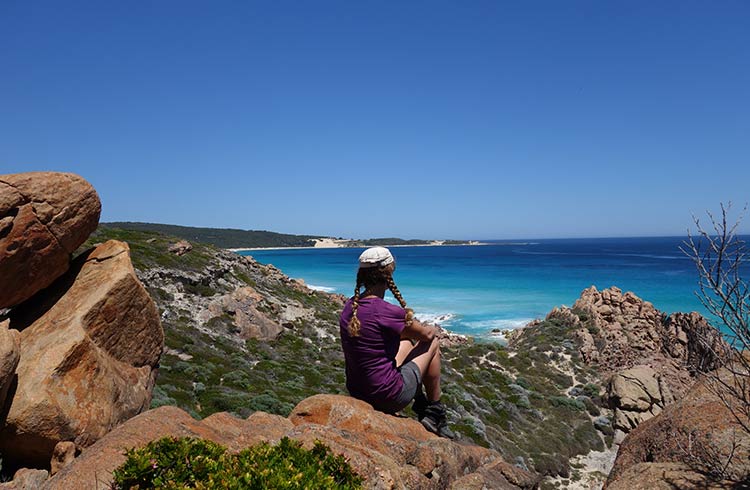 Stretching between Cape Naturaliste and Cape Leeuwin, this trail alternates between blinding white beaches and commanding cliff tops as it hugs the coastline, passing a handful of tiny towns. Catch views of world-class surf breaks, dolphins and migrating whales off the coast, while on land, emus, kangaroos and giant monitor lizards roam. Spring brings wildflowers and exotic orchids to the landscapes. Highlights include the Blowholes, Wilyabrup Cliffs, and Cape Clairault.
Time: 84mi/135km, 5–8 days
Getting there: Catch a bus from Perth to Dunsborough, then a taxi to the trailhead.
Tip: Allow plenty of time for swimming. Gaiters will prevent sand in your shoes.
Difficulty: Moderate
Kangaroo Island Wilderness Trail, South Australia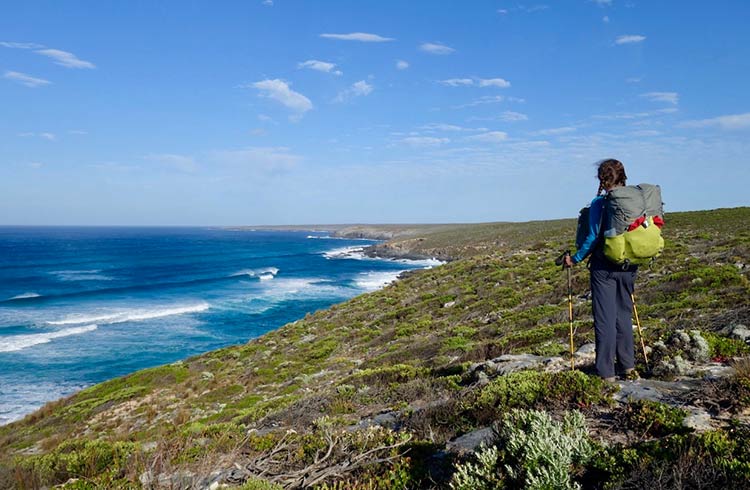 Combining rugged ocean cliff tops with pristine beaches and tea tree forest, this spectacular walk is also a hotspot for kangaroos, koalas and fur seals. The Remarkable Rocks, sculpted by the elements, are a highlight along with a sea cave at Admirals Arch that drips with stalactites. Enjoy the flash campsites with cooking shelters and unisex toilets.
Time: 38mi/61km, five days
Getting there: SeaLink operate a bus and ferry from Adelaide to Kangaroo Island, or you can self-drive.
Tip: Don't miss the side trip to Cape du Couedic and Admirals Arch.
Difficulty: Easy-Moderate
Three Capes Track, Tasmania
Standing on Australia's tallest sea cliffs, towering 984ft (300m) over the Southern Ocean, can be vertigo-inducing, but their raw beauty is worth the challenge. The track passes a fabled rock climbing route, The Totem Pole, along with eucalypt forests, heaths and moors and the pristine sands of Fortescue Bay. Camping sites must be booked in advance for this circular walk, and include a bed in comfortable hiker cabins, a boat cruise to the trailhead, and a bus back to the start.
Time: 28mi/46km, four days
Getting there: Catch a bus 1.5 hrs from Hobart to Port Arthur.
Tip: With a bed and cooking facilities provided, you'll have more space to pack a bottle of wine.
Difficulty: Moderate
Great North Walk, New South Wales
Starting in the heart of Sydney, this route winds through urban and natural landscapes north to Newcastle. Taking in attractions such as Lane Cove National Park, Ku-ring-gai Chase National Park, the Hawkesbury River and the Hunter region, it has a good mix of bush terrain and passes 14 Indigenous rock art sites. Regular access points make side-trips and section hiking popular.
There are multiple train stations along the Great North Walk, so if you're not feeling up to hiking the whole epic trail, catch a train to Cowan station and do a shorter walk to the lone palm tree at Jerusalem Bay (3mi/5km-return).
Time: 155mi/250km, 10–14 days
Getting there: Walk from Macquarie Place in Sydney and catch a bus or train back to Sydney from Newcastle.
Tip: Avoid summer when the bushfire risk is high.
Difficulty: Moderate-Hard
Great Ocean Walk, Victoria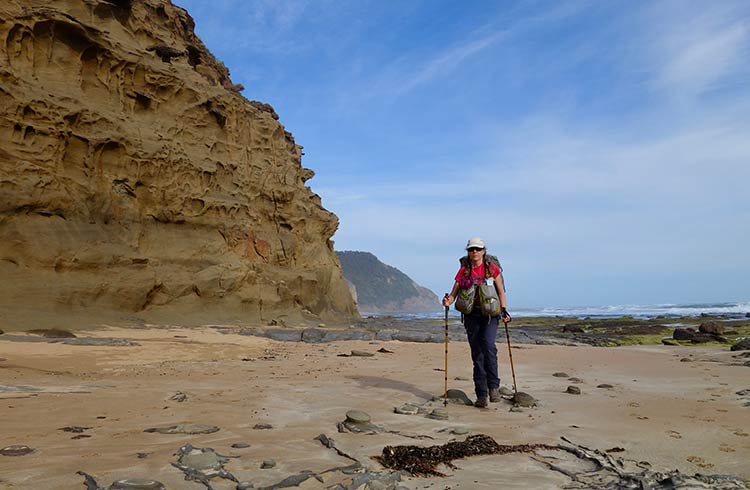 This trail gives access to the state's most popular stretch of coastline, including the Twelve Apostles, enormous sandstone pillars rising from the sea.  Historic shipwrecks have left anchors cemented in rock pools, and pockets of fern-filled forest hide echidnas and kangaroos. Bloodcurdling screams from the treetops are likely to be from a koala.
Time: 62mi/100km, 5–8 days
Getting there: Catch public transport from Melbourne to Apollo Bay.
Tip: Check tide times before choosing your dates. Some sections are impassable at high tide.
Difficulty: Moderate
Main Range Walk, Mt Kosciuszko, New South Wales
Stand at the top of Mount Kosciuszko, the roof of Australia at 7,310ft (2,228m) above sea level. This stunning alpine loop track starts at Charlottes Pass, and weaves its way to the top of the mountain range. Passing the Snowy River and several glacial lakes, it offers endless mountain views and wildflowers in spring. A chairlift from Thredbo will shorten the route to the summit to 8mi (13km) return. Beware, this hike will be snowbound in winter.
Time: 14mi/22km, 8–9 hours
Getting there: Park at Charlottes Pass, a three-hour drive from Canberra.
Tip: Always pack windproof and waterproof gear, and bring enough food for the day.
Difficulty: Moderate-Hard