A Local's Guide to Cairns: Top Things to See & Do
Reading time:
9
minutes
None of us could have imagined the unprecedented events that have unfolded in recent months. For most of us, travel is now paused but that doesn't mean dreaming and planning should be put on hold. Here is some inspiration for when we can travel again.
Discover the Great Barrier Reef and the Daintree rainforest with a Cairns local, Gail Palethorpe, as she shares her top tips.
A version of A Local's Guide to Cairns: Top Things to See & Do first appeared on WorldNomads.com.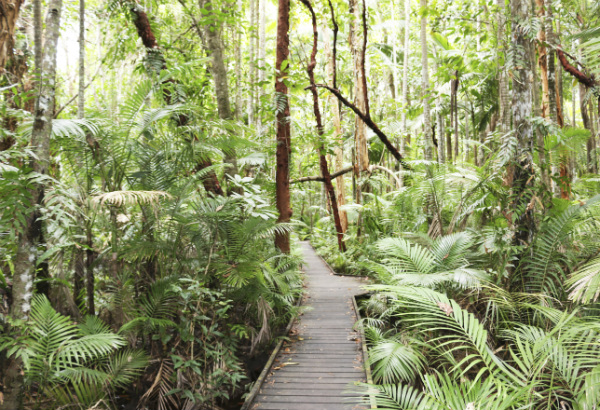 Cairns is where two World Heritage areas merge into one, the epitome of the rainforest meeting the sea. Tropical landscapes of swaying palms on long stretches of golden sand, true Aussie outback tinged with the hue of fine red soil, gushing waterfalls hiding in rock studded rivers.
How to Enjoy Cairns Like a Local
The locals in Cairns are a quirky bunch. A mixture of sea creatures that live for the reef (aka boaties, divers and fishermen), and farmers of sugar cane, bananas, pineapples and everything in between. A tribe of retirees who want to live in paradise for one reason or another, or city-folk escaping metropolitan Australia's madness.
It's got a laid back vibe whether under the heavens of a drenching monsoonal storm or a subtle warm placid winter sun. Cyclone parties are celebrated in the local pubs, cane toad races are freaky, Bundaberg rum is a cure for everything, and ladies' hats bob up and down in the adjoining cane fields of the horse racecourse when the toilets are busy.
Most mornings the locals are out jogging, walking, running or biking the beach promenade. The Cairns newspaper is still a valued commodity to read during the morning coffee ritual at one of the many cafes in town. If work isn't beckoning, the locals will flee the heat waves emanating from the bitumen roads of the CBD.
One of the favorite day trips for locals is to drive north to Port Douglas. It is a 50km winding drive along the Captain Cook Highway with the Coral Sea sweeping the road's edge. It has to be one of the most visually stunning road stretches in the whole of Australia. If you are lucky enough to be driving it during January to March, grab one of the succulent and sweet mangos from the roadside trees near Ellis Beach as you go past. Or, take the time to stop for a coffee and a walk on the beach.
Once you hit Port Douglas go for pre-lunch refreshment at one of the watering holes, either at the Central Hotel or the Courthouse Hotel. Follow this up with a long lazy lunch at one of Port Douglas' iconic restaurants either "Salsa Bar & Grill" in a whitewashed old Queenslander style building, or sit at "On the Inlet" restaurant overlooking the water.
Walk your lunch off doing the Macrossan Street shuffle of boutique shops, meander along the never-ending sand of Four Mile Beach or find a palm tree to have a nap under in Rex Smeal Park. Drive back to steamy Cairns in the cool of the afternoon and drop in for sunset drinks at the Pier.
Is Cairns Safe?
You are in the "nanny" state of Australia where the rules have been made for those without brains. There is an ever-present police force prowling the streets, who are more than willing to help the lost or a traveler in trouble. The local police are the "good" guys. Unlike some other countries around the world, you can't bribe these ones.
You won't get knocked over by a bouncing kangaroo in the street, but do be aware of snappy crocodiles in swampy rivers, occasionally sunning themselves on the beach or they can be one of the hazards on a golf course.
The Do's
Mozzie spray is a must, as the mosquitoes may carry Dengue or Ross River fever, apart from that the bites do itch.
Lather on the sunscreen, put on a slouchy hat and a cover-up top of some description, unless you are going for the peeling beetroot look.
Wear flip-flops, or you will be walking on a ground of fire.
If swimming in the ocean between the months of November to May, only go in the water where there is a beach stinger net or a body condom of a stinger suit. Box and Irukandji jellyfish are not selective in who they sting.
Always make sure someone knows where you are going, especially if you intend hiking in a national park. Occasionally people do get lost in paradise.
Keep your hands on your belongings at all times, and don't leave valuables on show in a locked car, especially if parked in an isolated national park.
Put the local emergency number "000" into your mobile to start with, as a "just in case" measure. If you lose your mobile, remember it doesn't cost anything to dial this number from a public phone.
The Don'ts
Wander into unlit city parks at night, as they are quite often pseudo camping and drinking grounds for the homeless.
Don't accept a free ride, or think that hitchhiking is safe. It is actually illegal to hitchhike in Australia.
If you have had more than your quota of alcohol, don't attempt to drive a car, ride a motorbike, or even pedal a bicycle if you are really wobbly, as you will get nabbed for driving under the influence. The legal limit is 0.05 blood alcohol. Random drug tests are also carried out on Australia's roads, where there is zero tolerance.
Don't use the purple colored vinegar at beach entrances for your salad dressing when picnicking on the beach, it's there to be used on jelly fish stings, and should be applied liberally on the skin – not on the lettuce.
Don't wear perfume in the tropics – it actually attracts the mosquitoes to the sweet smell on your skin.
Cairns Nightlife
Cairns is a young backpackers' hot spot, and therefore the nightlife reflects the party antics of this sometimes loose and tramping demographic. For those who want to party hard there is Gilligans Backpackers, and Lyquid Nightlife. Or to party with your new friends go on a pub-crawl ending in a pizza feast with the Ultimate Party Bus.
For more sedate night drinking venues or an older crowd, go to the Reef Casino, Bernie's Jazz Piano Cafe or The Conservatory Bar.
Observe the golden rule when out at night drinking: look out for your friends, and always watch that your drink is not being spiked.
Transport Options in Cairns
Vehicle Hire
Cairns is fantastic for a base, but most of the amazing sights are out of town.
There are plenty of car, motor scooter and motor home rental places in Cairns. Remember you will need to show your passport and an international drivers' license, if you wish to hire a vehicle of any description.
Cars are driven on the left hand side of the road with the driver sitting on the right hand side of the vehicle. Speed limit signs are on the side of the roads and limits are strictly enforced.
Cairns is a great place for getting around on a bicycle – the roads are flat, wide, easy to navigate with dedicated bicycle lanes.
There are lots of roundabouts and the city is set out in a grid fashion, so it is pretty hard to get lost. Just remember to lock your bicycle to a bike rack when leaving it and put on a bicycle helmet, or your friendly policeman will be giving you a fine.
Tips for Getting Around Cairns
Cairns is a city made for walking – despite the steamy weather – as nothing is too far away. If you have to rush around like a whirling dervish, then hire a bicycle. The ocean delights are easy to get to, as you can walk to the pier or marina and jump a boat.
How to Use Cairns Public Transport
The alternative transport to using your own legs is to flag down a taxi by waving your arms in the air. He will get the hint that you want him to stop. If a taxi light sign on the roof is "on", it means that the taxi is available. If the taxi sign is not on, you are out of luck and will have to wait for another one. Better yet, ring a taxi company or go to one of the many taxi ranks around town. Alternatively give Uber a try.
Bus stops are everywhere, so just hang out at one. Alternatively, for around the inner CBD you can use the "hail 'n' ride" system of Cairns Sunbus. Just stick your arm out to hail the bus, even if you are not at a bus stop. Timetables and destinations are marked clearly on signs at designated bus stops, but if you are unsure of which bus to get, ask the driver when you get on, or get a timetable at the main bus depot in Lake Street. Buses run seven days a week.
If you want to get to the Northern beach areas or to Port Douglas, you will have to get to the bus depot at Cairns Airport.
Adventure Activities Around Cairns
The Great Barrier Reef has to be on the bucket list whether you want to dive it, snorkel it or fish it. No words are enough to describe the grandeur of this underwater wonderland.
The Daintree, the oldest tropical rainforest in the world, is a trove of dinosaur-aged fauna where the magnificent blue Ulysses butterflies play. Ancient trees, palms and ferns create a lush verdant fairyland for unique and exotic creatures of every type. Rugged mountains have gushing waterfalls and swollen gorges have carved their way through to the ocean.
Get a taste of the rugged outback and the hidden trove of aboriginal art in the caves at Chillagoe. Check out the Balancing Rock after trekking through eucalyptus, paperbark, tea-tree and ironwood trees.
Or if bats don't freak you out and you have a very big torch in your hand, play Indiana Jones and explore one of the many caves such as The Archways, The Pompeii Cave or the Bauhinia Cave. Listen to kookaburras laughing at you and watch lively rock wallabies showing off as they jump from boulder to boulder.
Stay overnight at one of the eco lodges at Chillagoe because it is the perfect town for stargazing as there is no loom of city lights.
Hire a car or take a tour and go to Cooktown where there are more pubs in the one main street of town than anything else. Sitting on the mouth of the Endeavour River, this historical town really is sitting amidst stunning unspoilt scenery, where even "laid-back" does not describe the slow vibe of the town.
If you want to do the Bloomfield Track, which is a fantastic off-road trip connecting Cape Tribulation to Cooktown and the real place to see the rainforest flowing into the sea, take a private tour as hire cars are not allowed to traverse this rugged dirt track interrupted by numerous river crossings.
The Atherton Tablelands is an easy day trip by car or a gruelling mountain bike ride from Cairns, but don't expect to see it all in one day especially if you are under pedal power. It is the best place to experience the food bowl of the tropics, do the circuit of the waterfalls or picnic at the twin crater lakes of Eacham or Barrine. Stop at one of the roadside stalls and grab some macadamia nuts, avocados or ripe red strawberries to complete your picnic munchies.
Mossman Gorge and the Aboriginal Cultural center, just north of Port Douglas at Mossman is one tourist attraction that is well worth going to. You can dabble in some "dreaming" time at the Indigenous eco tourism development, walk the stunning rainforest tracks, take a very cold dip in the gurgling water or contentedly sit under one of the many waterfalls on huge granite boulders. Despite the freezing water temperature almost giving you a heart attack when you jump in, on a hot day you will be happy to take the chance.
If the wallet is on the thick side, organize a helicopter ride and see the reef in all its glory from the air. You can actually land on a sand cay in the middle of the ocean for a spur of the moment picnic and a swim. It is a very "James Bond" feeling when stepping down from the helicopter onto your very own sandy perch surrounded by azure blue crystal clear water in the middle of the ocean.
Have a change of scenery and head to CobboldGorge, an outback oasis where soaring sandstone cliffs overhang the frigid waters flowing through the ancient carved out mountains. From here you can take a boat tour down the expansive river that at times shrinks like tight panties to 2m wide at some points watching the birdlife and the abundant wildlife as you ebb and flow with the current.
The ultimate experience is to run off and play castaway with a few indulgent luxuries at one of the many islands accessible from Cairns. You have a choice depending on how big your pockets are.
The Frankland Islands are perfect for camping on, but if "roughing" it is not your thing, try Dunk, Green or a tad more upmarket, Bedarra Island.
Top of the range is Lizard Island for a sublime stay where you literally roll out of your bed onto the reef.
Remote privately owned Haggerstone Island is definitely for the ones with wads of cash who are chasing the ultimate experience of staying in a rustic driftwood hut on the sand, eating sumptuous food and indulging in the odd vino in between exploring the vast north where tourists never get to go.
Cairns Secrets
Go Water Hole Hunting
When the sweat is slowly trickling down your back, or from your armpits for that matter, it is time to jump into some cold water of some description to cool off. Instead of being lazy and lolling into the hotel's pool or building up more of a sweat walking to the beach, climb in an air conditioned car and go water hole hunting.
There are enough natural water holes around Cairns that you could spend a good two weeks going from one to another and never see all of them. Some only the locals know about, such as The Golden Hole near Josephine Falls with its smooth rocks and pristine water, whilst others are firmly on the tourist map.
Crystal Cascades in Redlynch Valley is popular with both tourists and locals, as it is a quick 15-20 minute drive from Cairns and has plenty of different pools to splash around in.
The nearby Fairy Falls is a gem of deep green pools in the tropical jungle further on from the Crystal Cascades that only the intrepid adventurer tries to find.
A tricky one to find but a definite local's haunt is Behana Gorge that is only 30 minutes from Cairns past Gordonvale. The drawback with this one is you have to walk for about 45 minutes to get to it, but it does have a beautiful cascading waterfall flowing into several rock pools for swimming in.
The list is endless of where to take a refreshing dip with a difference and if you are lucky enough you may just be the only ones there.
Travel Alert:
Cover is not available for loss arising from government restrictions including travel bans, border closures and broadly imposed quarantine requirements, or failure to follow government advice. If your travel is affected by government restrictions, we have options available if you
no longer need your policy.
See our
travel alerts.