A Blend of Age-old Traditions & Modern Art in Tasmania
Reading time:
6
minutes
None of us could have imagined the unprecedented events that have unfolded in recent months. For most of us, travel is now paused but that doesn't mean dreaming and planning should be put on hold. Here is some inspiration for when we can travel again.
Tasmania blends age-old traditions with the latest in contemporary art and style. It's a place where you can pick your own fresh produce, explore the history of Australia's early settlements, and admire the talents of local artisans.
A version of A Blend of Age-old Traditions & Modern Art in Tasmania first appeared on WorldNomads.com.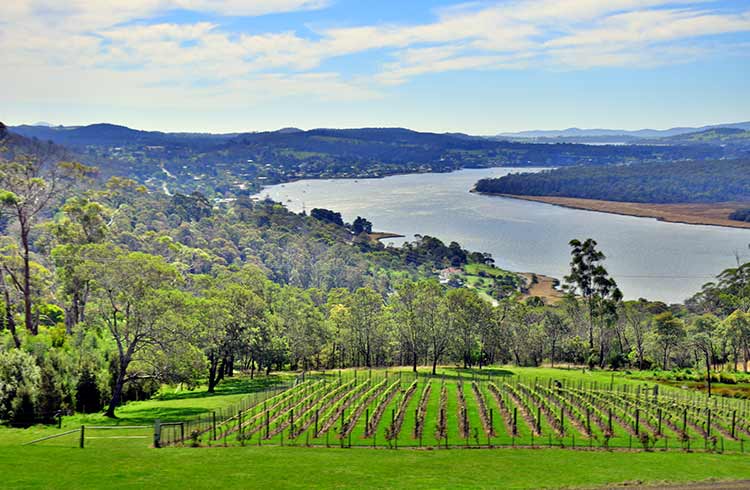 Each region in Tasmania has its own unique culture, art, and festivals. The island state changes with the seasons, with each bringing its own music festivals, food festivals, and fruit ready to be picked. Regardless of which season you travel, you'll find a unique sense of community.
Festivals & Art in Tasmania
Tasmania's community spirit shines during its annual seasonal festivals. People across the island come together frequently to celebrate and share their heritage and interests.
As spring emerges, Wynyard's Bloomin' Tulips Festival takes over the Table Cape plateau. While admiring the rows and rows of vibrantly coloured tulip blooms, you can buy local arts and crafts while listening to music from Tasmanian bands. The event hosts a popular cocktail party as well as a fireworks display over the Inglis River. You can also get a bird's eye view of the tulip fields on a short helicopter ride.
Further south, in the Huon Valley, the Huon Show has celebrated country life every November for the past 70 years. Enjoy livestock judging, wood-chopping competitions, and show jumping.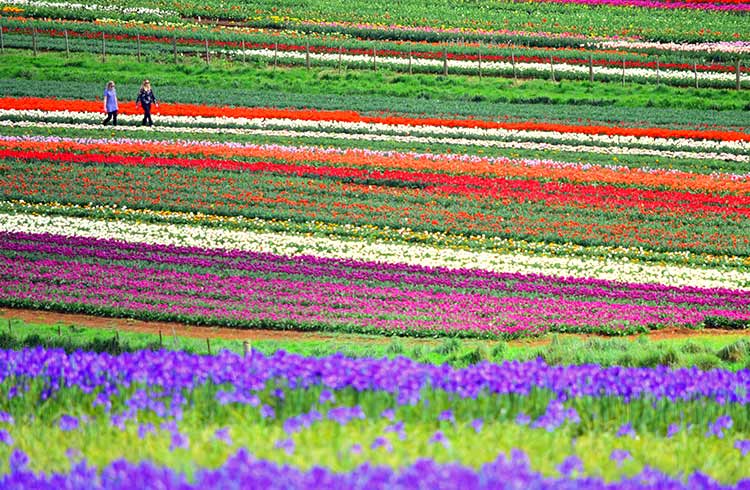 As summer arrives, so do the competitors in the iconic Sydney to Hobart Yacht Race. Since 1945, ships have been setting sail from Sydney in a race to see who will be the first to greet the locals of Hobart who eagerly await the friendly invasion.
Later in summer, Tasmania's largest contemporary music festival, MONA FOMA, or MOFO for short, takes center stage. The festival has taken place in Hobart since 2009, but the event will make a three-year move to the north when Launceston becomes the host in 2019. The festival is both delightful and at times a bit unnerving, with all kinds of unique performances on offer. One year, a composer conducted an orchestra that was scattered along the Derwent River in dinghies, barges, and ferries. Other past performances include a guy destroying 250 hammers with a bigger hammer, and a musician performing for 24 hours straight. If you can't make it to Tasmania during the summer months, you can experience the darker-themed gothic version, Dark MOFO, which is held during winter. Dark MOFO once featured the highly controversial sacrifice of a bull in a performance.
These two festivals are hosted by Hobart's eccentric Museum of Old and New Art (MONA). The museum may leave you feeling uncomfortable or awkward at times, as it redefines and pushes the boundaries of what constitutes art. Witness paintings created from elephant dung, and walls adorned with castings of women's genitals.
To see more traditional art, visit the Tasmanian Museum & Art Gallery in Hobart or Launceston's Queen Victoria Museum & Art Gallery. Both galleries offer a glimpse of the island's history in colonial paintings and photography, as well as artifacts, such as bones from the now extinct Tasmanian tiger.
Food & Wine Around Tasmania
Taste of Tasmania is Tasmania's largest food and wine festival where you can sample all kinds of award-winning dishes from local restaurants. But don't miss out on smaller food gems found around the state.
The island is known for its fresh seafood, especially salmon and oysters. While you won't find wild Atlantic salmon in Australia, there are several salmon farms in the waters off Tasmania. Pacific oysters were introduced to Australian waters by the Japanese during the 1950s, and those found in Moulting Bay are considered Tasmania's finest, offering a creamy sweet taste rather than the saltier mainland varieties.  Blackman Bay is another top Tasmanian oyster producer and offers oysters with a white flesh that leaves a crisp taste on the palette. Each year, Tasmania produces around four million oysters, and the state's farming methods have been adopted by other countries including Japan.
Tasmania also prides itself in its fresh produce that you can pick yourself. You'd be hard pressed in Australia to taste fresher apples, pears, cherries, peaches, strawberries, or raspberries. If that doesn't satisfy your sweet tooth, head to House of Anvers Chocolate Factory for hand-made chocolate truffles, or pick up some famous local leatherwood honey from the Tasmanian Honey Company in the small town of Perth, Tasmania.
There seven wine regions in Tasmania including the Tamar Valley and along the East Coast Wine Trail. Sharmans Wines in the Tamar Valley offers some of the state's best pinot noir, and its bottles depict a range of local wildlife. If white wine is more your taste, Devil's Corner Vineyard on Tasmania's east coast offers refreshing chardonnay, riesling, and pinot grigio. If you're still hungry from all your traveling, pair your wine with award-winning Tasmanian cheeses made from cow's, sheep and goat's milk.
History of Tasmania
Each town you come across in Tasmania has a unique character, and many have stories dating back to a time long before Australia was an independent nation. Roughly 40,000 years ago, there were numerous Indigenous communities living in Tasmania and the Bass Strait islands. The indigenous people of Tasmania were largely hunter-gatherers and would migrate with the seasons in search of game and favorable weather. They were cut off from mainland Australia when sea levels rose around 12,000 years ago, transforming Tasmania into the island.
The first European to set foot on Tasmania was Abel Tasman in 1642, after whom the island was named. Later on, notable English explorers such as Captain James Cook and Matthew Flinders would reach the island's shores. Tasmania's Indigenous population is thought to have numbered around 8,000 at this time, but, tragically, the Black War of Tasmania, which began in the 1820s, would result in the genocide of Indigenous Tasmanians.
Evidence and artifacts of Indigenous settlement can be found across Tasmania including shell middens with stone tools, rock etchings, like those found in Devonport, and the Kutikina Cave rock shelter found in the Wilderness World Heritage Area. Not many Indigenous heritage sites are publicized or easily accessible, to protect and respect the culture.
The names of many areas around Tasmania have recently been changed to reflect the original names given by Indigenous Tasmanians or have been renamed to honor the culture. An example of this is the renaming of Asbestos Range National Park to Narawntapu National Park.
In the 19th century, Tasmania had many penal settlements, including those at Port Arthur and Sarah Island. Towns sprung up along the railroads constructed for the mining and timber industries. You can learn a lot about this period by visiting Tasmania's Central Highlands, where you can see the 328-foot long (100m) Wall in the Wilderness. Built from intricately carved panels of Tasmanian Huon Pine, it depicts scenes of the region's history. Through this masterpiece, artist Greg Duncan highlights the state's Indigenous culture as well as the more recent timber, mining, and pastoral history.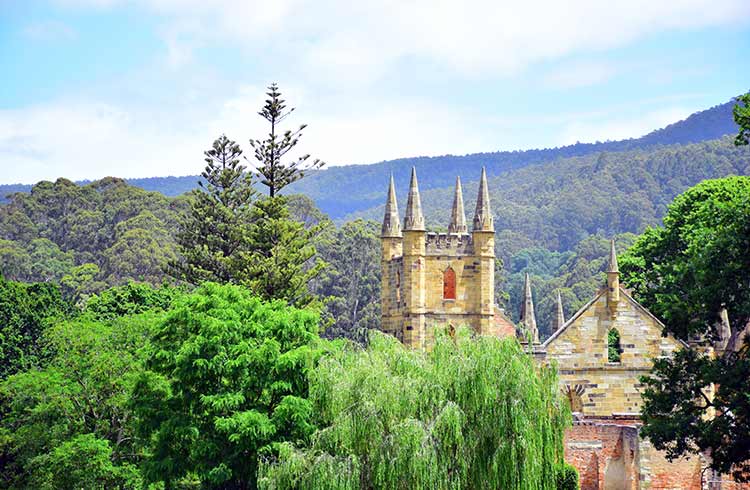 Tasmania has remnants of many colonial buildings and estates. Some remain just as they did when they were built while others have been converted into hotels, bookstores, or cafes. You can visit 19th-century estates including Clarendon or Woolmers where you can touch colonial artifacts such as pianos, clothing, kitchen utensils, and furniture. Many of the estates also contain well-maintained gardens, and guided tours which will provide insight into what life was like for early Europeans living in Tasmania.
Take a Foodie Road Trip Around Tassie
Tasmania's well-maintained network of roads is perfect for road trips. Whichever route you choose, you're bound to pass a few tractors and trailers carrying horses, sheep, or alpacas.
To taste some of Tasmania's finest wines, the Tamar Valley Wine Route is touted as one of the world's top 10. Sample wines from countless cellar doors while taking in the beauty of the Tamar River and Cataract Gorge.
Follow in the footsteps of Tasmania's early convicts along the Convict Trail, which includes Australia's oldest colonial jail in Richmond as well the Port Arthur penal settlement, Coal Mines Historic Site, and the Cascades Female Factory.
Literally get your feet wet in the culture of the often rainy western region of Tasmania by way of the West Coast Wilderness Way. Here you will find timber plantations and old mining towns as well as stretches of pristine wilderness. Take a cruise on the Gordon River, deep into the Tasmanian Wilderness World Heritage Area, to access to remote and isolated convict sites, or travel along the tracks of the West Coast Wilderness Railway into the temperate rainforest, while you learn the fascinating stories of the men who labored to build it.
For a foodie road trip, take the Cradle to Coast Tasting Trail and grab a bite to eat at Christmas Hills Raspberry Farm, Ashgrove Tasmanian Farm, the Cherry Shed, and the Tasmanian Food & Wine Conservatory. There are also several Tasmanian breweries worth a visit such as Boag's in Launceston with their wonderful Premium Lager or Railton's Seven Sheds Brewery with their popular Kentish Ale.
The Heritage Highway follows the original route that linked Hobart in the south to Launceston in the north. The route was built by early convict road gangs and passes through many charming historic towns. Along the way you'll learn about early Tasmanian history through interpretive signs, can pick up a few treasures at antique stores, and make your way around Oatlands, one of Tasmania's oldest settlements which was constructed by convicts in the early 1800s. In addition to the numerous historic sandstone buildings you'll find in Oatlands, you can visit Callington Mill where you'll see the only fully operational colonial windmill to be found in Australia.
If you plan on visiting Cradle Mountain, Tasmania's number one natural attraction, allow time to stop in the numerous quirky small towns nearby. Sheffield is known as the Town of Murals due to the larger than life murals around town. The first mural, commissioned in 1986, depicts Gustav Weindorfer, who was the naturalist who pushed for the creation of Cradle Mountain National Park.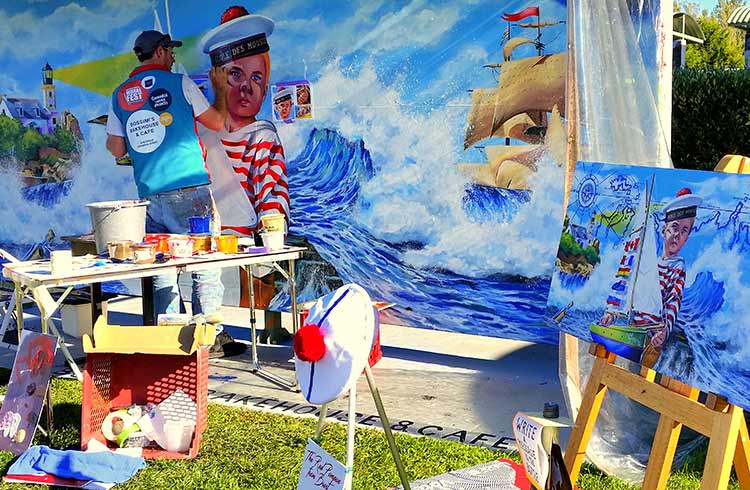 The town of Railton offers artistic topiary creations of livestock and rural life, while the residents of Wilmot take pride in their outrageous mailbox creations, mostly made from scraps of material including buckets, pieces of wire or metal tins.