10 Ancient Natural Wonders Around Australia
Reading time:
6
minutes
None of us could have imagined the unprecedented events that have unfolded in recent months. For most of us, travel is now paused but that doesn't mean dreaming and planning should be put on hold. Here is some inspiration for when we can travel again.
From the famed Great Barrier Reef to the lesser-known Flinders Ranges, join us as we explore the most breathtaking places in Australia.
A version of 10 Ancient Natural Wonders Around Australia first appeared on WorldNomads.com.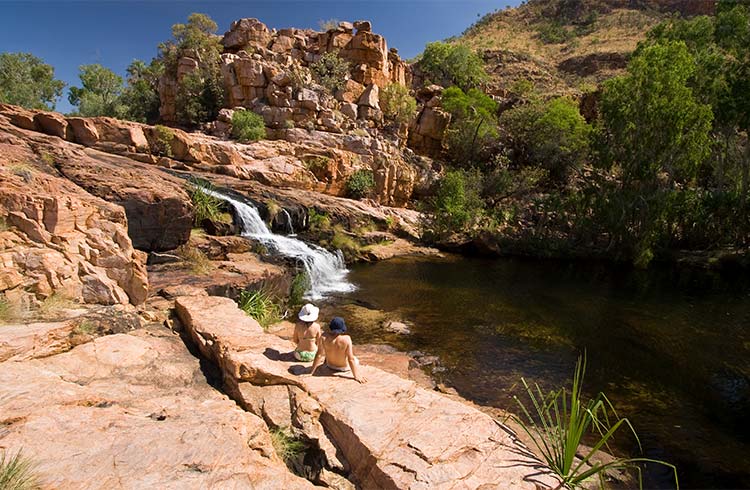 Every adventurer knows that the Great Barrier Reef and Uluru are the top two natural wonders in Australia. These two UNESCO World Heritage sites are not to be missed, but have you also heard of Ningaloo Reef or the Bungle Bungles? Take a step off the beaten path and discover lesser-known Aussie destinations that will take your breath away.
Daintree National Park & Cape Tribulation, Queensland
Tropical North Queensland, in northeast Australia, is well-known for the Great Barrier Reef, but there's so much more to the region. Jump on a boat in Cairns, and spend a day or more exploring the reef, snorkeling or scuba diving. Back on dry land, head north (by car, bus, seaplane or helicopter) to explore the Daintree National Park.
The Daintree, with its dense tropical foliage, huge fan palms, big crocodiles and tiny tree frogs, is a UNESCO World Heritage site, and is the oldest rainforest on the planet. It's a spectacularly green and wild environment that teems with life. Head to Cape Tribulation, the remote, desolate beach edged by mangroves (explore those via the boardwalk), and take a crocodile boat cruise to get close to the prehistoric critters that make North Queensland their playground.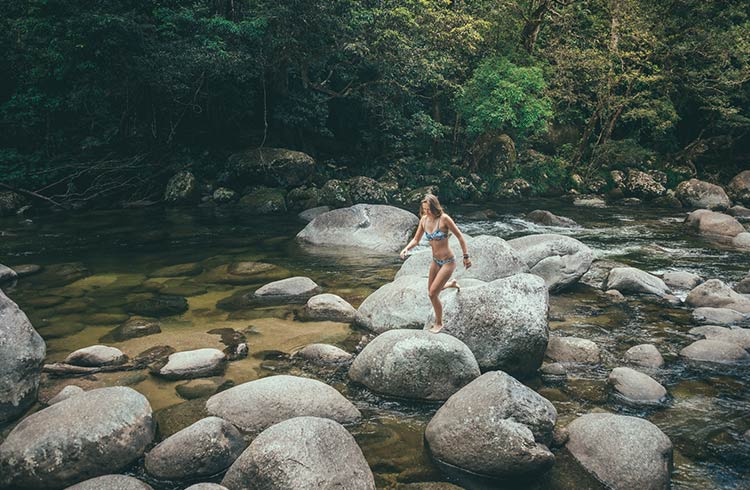 Kakadu National Park, Northern Territory
To see Australia's Top End, head northwest to Darwin in the dry season (April to November, to avoid the monsoon rains, which shut everything down) and discover a world that's almost unchanged since the local Indigenous people first lived here more than 50,000 years ago. Kakadu, another UNESCO World Heritage sites, boasts huge waterfalls (Jim Jim and Twin Falls), countless walking trails, billabongs (seasonal ponds) and numerous breeds of birds that make this remote place home.
Arnhem Land, Northern Territory
Even further off the beaten path, Arnhem Land is an exhilarating destination that is best reached by small plane. Fly north across Kakadu to Davidson's Eco Lodge to find a place that time has forgotten. Skim across the watery floodplain in a flat-bottom boat, climb up to the ethereal rock paintings created in ancient times by the Amardak people (the Traditional Owners who manage the land today), and hear Dreamtime stories of the Indigenous culture and this fascinating, remote place where few visitors travel. Endless flocks of birds as well as "freshies" and "salties" (both types of crocodiles found here), climbing rock wallabies, and plenty of other critters can be found in this otherworldly outpost.
At Davidson's or the other resorts in the region, your accommodation fees usually include the required permit to enter this land which is privately owned and managed by Indigenous communities. Every non-Indigenous person who enters Arnhem Land must have a permit. If you're driving, you must first apply for and carry the permit to be allowed entry. Usually free or for a small fee, allow 10 days for the Northern Land Council or the Dhimurru Aboriginal Corporation to issue the permit.
The Bungle Bungles, Western Australia
Western Australia's remote northern region is called the Kimberley, a place so far removed that much of it remained a mystery to all except to the Indigenous owners and a few local cattle farmers ("pastorals," as the Aussies say) until the 1980s. A documentary filmmaking crew "discovered" the breathtaking Bungle Bungle Range, a series of striped sandstone beehive-like formations cut with deep gorges, in 1987. The range and surrounding area became Purnululu National Park in 2003, and also got the UNESCO nod. Making Kununurra your home base, fly over the Bungle Bungles and massive Lake Argyle with Aviair which offers helicopter tours in a 'copter without doors. Use a camera strap and lean out to take breathtaking photos – it's a heart-stopping ride.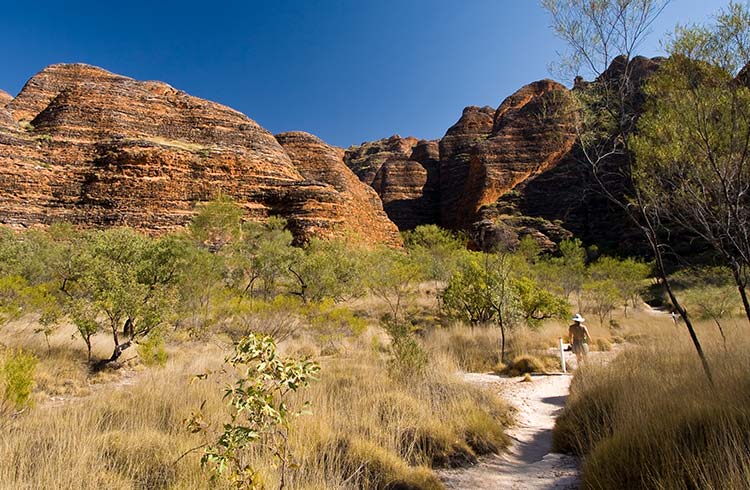 Cathedral Gorge, Western Australia
Back on the ground, in the heart of the Bungle Bungles, hike across this surreal countryside with a local Indigenous guide to hear the cultural stories of the region. Walk into Cathedral Gorge, a massive red-rock amphitheater, with amazing acoustics, that will make you feel very small – but your voice will echo to the sky beyond.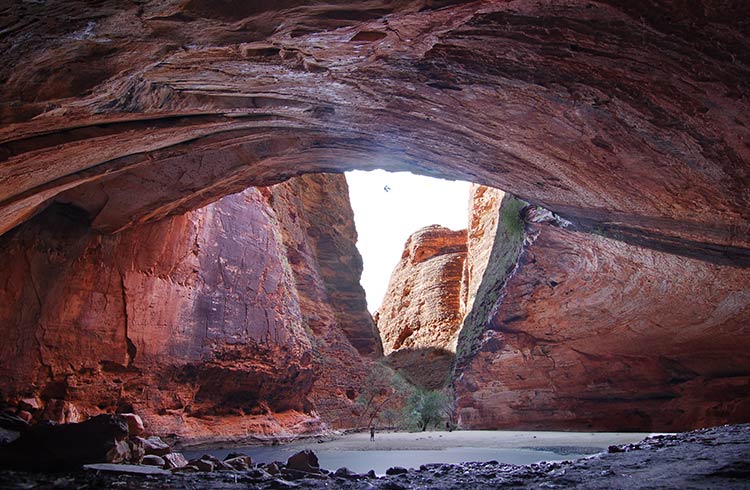 El Questro, Western Australia
Back in Kununurra, head east and drive across the savannah grasslands of the Kimberley to El Questro, where sandstone ranges, deep gorges, waterfalls, swimming holes, massive boab trees and sleepy crocodiles await. Here, you can camp, stay in a simple bungalow or go all out and enjoy the luxurious Homestead, in your own villa perched on the edge of Chamberlain Gorge. You can cruise along gorge, climb to Zebedee Thermal Springs for a cooling dip in a tree-lined hideaway, or a go on a fascinating guided bushwalk that culminates in a sunset toast high above El Questro's 700,000 of untamed wilderness.
Ningaloo Reef, Western Australia
At the western edge of Australia, Ningaloo Reef awaits adventurers willing to make the extra effort to get to this unspoiled paradise. You can fly into Exmouth from Perth or Broome. Once there, it's all about the crystal-clear water and the empty beaches at this UNESCO World Heritage site. The gateway town of Exmouth has plenty of shops and restaurants, but retains an outpost feel. Nearby, Cape Range National Park is home to beach camps, spectacular canyons and creeks, and the Tantabiddi Boat Ramp, where the day boats head out from to the nearby fringing reef. When driving, watch out for emus, kangaroos, and other wildlife as you roll through this arid landscape.
You can snorkel with whale sharks from April to July, swim with migrating humpback whales in July to October and explore the coral reefs as you dive with manta rays, sea turtles, moray eels, sharks and endless species of tropical fish, led by expert guides from Exmouth Diving Centre. Check out the beaches including Turquoise Bay and Mauritius Beach, which are often deserted.
For a sublime experience, stay at Sal Salis, where you'll have your own luxury tent right on the beach, complete with kangaroo visitors, dolphins frolicking past and (naturally) your own bed and bath inside your comfy tent.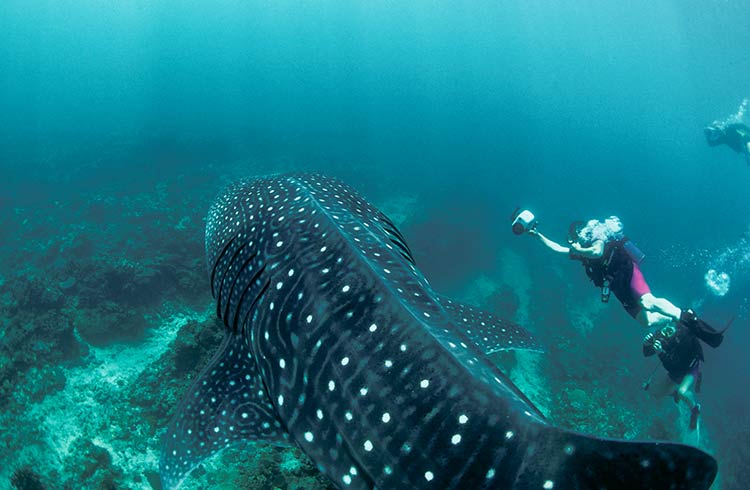 Ikara-Flinders Ranges National Park, South Australia
South Australia is no slouch when it comes to natural wonders. All it takes is one trip into the Flinders Ranges to know that there's a whole world beyond the famous wine regions of the state. The start of the southern Outback, it's easy to get here from Adelaide via a quick flight or a five-hour drive. Stop in the Clare Valley along the way for fine food and wine. Once in the ranges, you'll find a wilderness with vast expanses of desert, massive cliffs, rocky hiking trails, deep gorges and a surprising number of birds, reptiles and mammals that survive in the rugged landscape.
Get into the sky on a Chinta Air Tour to see the extraordinary Wilpena Pound, a natural rock amphitheater, and more of the quartzite Flinders Ranges mountains. On the ground, watch for emus, parrots, grey kangaroos and yellow-footed wallabies. Stay in an eco-villa at the Rawnsley Park Station and you're likely to have those friendly creatures right outside your door.
Uluru, Northern Territory
Located in the heart of Australia, Uluru is a 1,142ft (348m) high sandstone rock, deep in the Northern Territory. This Red Centre landmark is a sacred place for the Anangu Indigenous people who have made this region their home for thousands of years. Uluru is a striking monolith that fires the imagination, especially as the evening sky reveals it in the glow of the vast Milky Way above.  The Anangu ask visitors not to climb, instead, take the fascinating 10km Base Walk.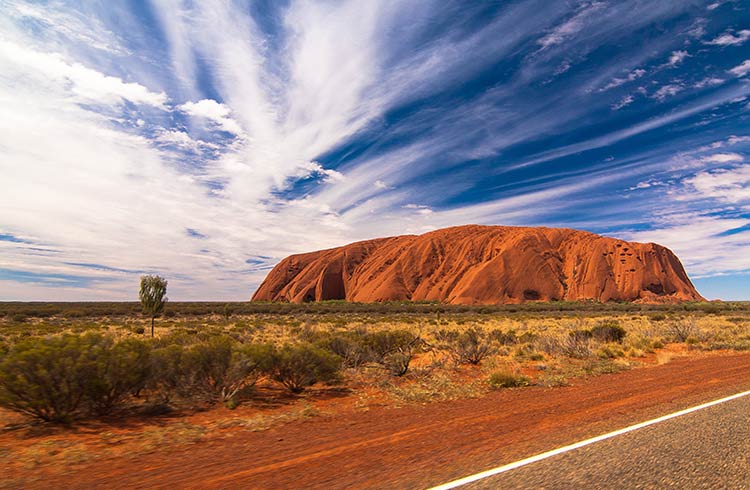 Kata Tjuta National Park, Northern Territory
Kata Tjuta (once known as The Olgas) is a group of 36 huge domed rock formations 18 mi from Uluru, where sunset and sunrise create vibrant colors and shapes against the stone. Walk around the base or take a helicopter ride to see them from above. To experience these moments at both Uluru and Kata Tjuta, stay at Voyages Resort, which offers all ranges of accommodation, from camping to five-star luxury.
Not a natural wonder, but beautiful all the same, Field of Light (Tili Wuru Tjuta Nyakutajaku) is an art installation by Bruce Munro, which lights up the fields near Uluru every evening with a vast blanket of color. It's a beautiful way to complete your tour of Australia's ancient wonders, a human creation that matches all the natural beauty that makes this continent so spectacular.