The Embassy: What you need to know about consulate services
Reading time:
3
minutes
Australian travellers abusing consulate services
Earlier this year, Channel 9 provided an exclusive insight into what happens behind the iron gates of the Australian Embassy in Bangkok. The series offered first-time access to the embassy, the staff and what happens when Australians are confronted with the good, the bad and the ugly while travelling in Thailand.
While the show made for compelling viewing, it also showed the heavy reliance Australian travellers place on consulate services when they get into trouble overseas – everything from misplaced passports to ending up in the Bangkok clink.
It's with this in mind that Foreign Minister, Julie Bishop, has reinforced the difference between having access to an Australian consulate or embassy, and being personally prepared for your travels. And that means travel insurance.
"Australians must understand that travel insurance is not an optional extra," the minister said. "If you cannot afford insurance, you cannot afford to travel."
Of the 9 million Australians who travelled overseas last year, over 53,000 calls were made to the Consular Emergency Centre hotline. Only 14,500 of those calls required legitimate consulate assistance.
There's a difference between when somebody needs the consulate's help, and when somebody should help themselves and the minister urged people to take more personal responsibility when travelling.
"Our consular staff are not there to pay for the repairs to your jet ski," she said. "They are not there to pay your hotel bill. They are not there to lend you a laptop or to provide you with office space in the embassy for you to do your work."
"Consular assistance should not be seen as a right, it is a privilege and the government is not a back up insurance policy."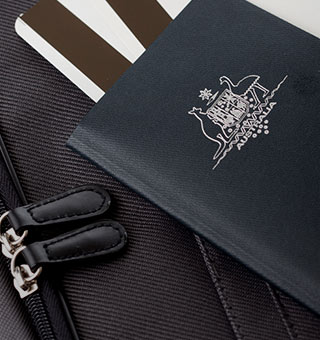 What does the Australian embassy do?
Australian consulates exist to provide support to Australians in the event of particular situations occurring overseas. We're not talking about your hotel mucking up your reservation or not knowing where to get a decent bowl of Pad Thai.
Embassies aim to provide assistance in:
Issuing replacement passports
Providing details of local doctors or hospitals in a medical emergency
Providing support if you are arrested (check on your welfare and provide details of lawyers and/or interpreters)
Providing advice and support in missing person or kidnapping cases
Enabling you to vote while overseas
Providing some notarial services (witnessing signatures, certifying documents)
You do not have a legal right to consular assistance. If you are participating in illegal activities or have deliberately or repeatedly acted recklessly, the consulate does not have a legal responsibility to help you out just because you're a true-blue fair dinkum Aussie.
Embassies cannot:
Guarantee your safety and security while you travel
Give legal advice, interpret or translate documents
Intervene in another country's court or legal proceedings
Get you out of prison or prevent you from being deported
Get you better treatment in prison
Post bail or pay your fines and legal expenses
Intervene in immigration, customs or quarantine matters
Store lost property
How can you be a good traveller?
There's a time and place for the embassy's assistance and genuine need won't go unaddressed. However, there's plenty Australian travellers can do to ensure they don't need to pay the embassy a call while overseas.
Take out travel insurance with TID and utilise our services if you get into a TID bit of unexpected trouble
Read your travel insurance policy PDS – understand what you are and aren't covered for
Register your travels with DFAT
Do your research – understand the law, visa restrictions and cultural traditions of the countries your visiting before you leave
Download Tripwise – get up to speed on safety precautions, suggestions and travel tips, all while carrying your policy around in your pocket
Double check your bookings/reservations and ensure you have access to enough money for your trip
Security – keep your passport, money and valuable items safe at all times
And most importantly, don't do anything illegal or dangerous.